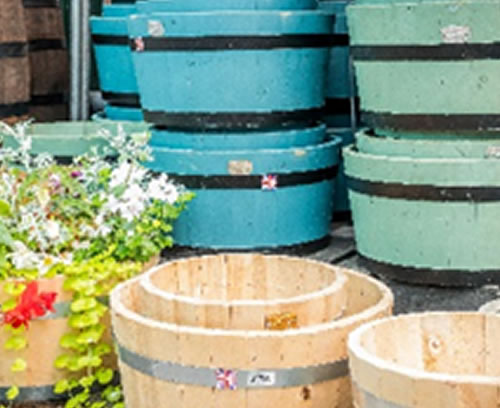 1. Work in the Potting Shed:
When it's a horrible rainy day where better to be than nice and dry in the potting shed.  Don't worry if you don't have a potting shed or greenhouse, you can create a makeshift one in your kitchen (or other suitable room).  You could also take the time to research new gardening projects on blog sites and gardening 'how to videos' on Youtube.
2. Do some weeding:
Weeds like Dandelions and Thistles are much easier to pull in damp soil, so get your waterproofs and Wellies on!
3. Supporting your herbaceous perennials:
It's so much easier to drive a support into damp soil, so take advantage...  Try wire supports such as Tildenet 8'' Plant Twists.
4. Protecting young plants with cloche:
Young plants don't have the root structure in place to avoid being swept away by heavy rain, so using cloche is a good idea.
5. Sowing Watercress Seeds:
Aptly named Water Cress Aqua, these plants love a downpour (like most veggies actually).  Plus, it's a quick project, which can be easily accomplished by children.
6. Sow Seeds:
A lot of heavy rain can sometimes kill your plants.  So, it may be wise to plant seeds to replace those you have lost.
7. Check Pots Don't Get Waterlogged:
You may constantly worry that your post will dry out, well, waterlogging is just as bad.  its best to check after heavy rain, just to be safe.
8. Pick Salad Leaves:
If you are growing Lettuces and Rocket, it's a good idea to pick them during or after rain.  Salad vegetables grow sweet and lush in the rain, you will certainly taste the difference.
Visit our Garden Centre for all your gardening needs. We are open 7 days. Alternatively, shop online at https://garden.pearsonsofduns.co.uk/