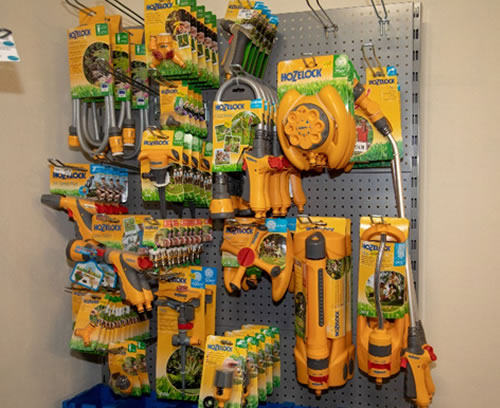 Plants should be able to source enough water for themselves between April and October, but that is not always the case... especially when the summer sun decides to appear.  Lovely sunny days are a nice change in the UK, especially after the rain we've been having, however, it will cause keen gardeners distress as they see their plants get thirstier and thirstier.
Whether you are water aware, in a hosepipe ban area, your short of time or your water is metered, it is a good idea to use water wisely in the garden...
Here are three ways you can save water and time spent watering during the summer months whilst maintaining a lush green garden.
1. Avoid Watering at All!!!
This may sound like it defeats the purpose of watering, but if you are well prepared and mulch heavily in the Spring whilst the ground is at its wettest, it will prevent the water evaporating during the summer.
You can use a number of things to mulch - bark, gravel, shells, pine cones or recycled glass.
For pots and planters you can line them with plastic, available from our Garden Centre, this will ensure that the compost retains its moisture.  Remember to pierce a few holes in the plastic so the compost can drain off superfluous water.
2. Water Awareness
Always be aware of the weather forecast.  If it is forecast to rain you should hold off watering your plants, as they will get all the nourishment they need from the rainfall.  When you do need to water, it is always best to water in the late afternoon or early evening, this will give your plants plenty of time to absorb it before the sun rises.
Another good tip in water conservation is placing pots directly under hanging baskets... when you water the hanging baskets, the pots will absorb all the overflow.
No matter what!  DO NOT water in the middle of the day!   Any water droplets on the leaves will act like a magnifying glass and scorch holes in the leaves. Either move plants you wish to water into the shade or wait until later in the day. 
 To conserve water, you could water less frequently but give the plants a really good drink when you do.  This will give the roots time to absorb previous water.  The roots are the area of the plant you want to water, so direct your hose just below the foliage line.
If you are growing plants which require copious amounts of water i.e. tomatoes, you can use a large plastic bottle with the flat end cut off.  Simple bury the funnel end into the ground close to your plant and fill with water.  This way the water is directed at the roots.
3. Recycling
There is no better way to conserve water than collecting rainwater in a barrel or water butt to use in your garden.  You can buy many different sizes of water butt from our Garden Centre, we will have something to suit your needs.
Our Garden Centre and website stock a wide range of Hozelock products to help you keep your garden luscious throughout the hot summer months.  We have watering products such as garden hosepipe, sprinkles, reels and connectors to name a few, see in-store or online for the full range.  Open 7 Days!