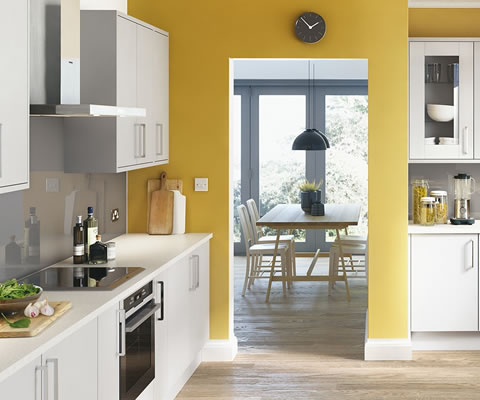 There are a lot of advantages to having a smaller kitchen in your home including the reduced cost of remodelling and can be better ergonomically, ideal to make the most of "The Kitchen Triangle". The most important thing to remember is to utilise the space you have and make smart decisions about your kitchen layout, appliances and storage.
Think Bright
Create the illusion of more space by choosing a light kitchen with sleek lines. Choose a contemporary design in a light colour to create the illusion of more space. To squeeze the most out of your kitchen, choose a range that has integrated handles or is completely handle-less. It will save any bumping into them and will add to the sleek, contemporary finish of your kitchen.
Light, reflective materials are your friends in a small kitchen as they make the space feel larger. Consider using white cabinet doors, light stone or stainless-steel counter tops or incorporating white splashbacks or tiling.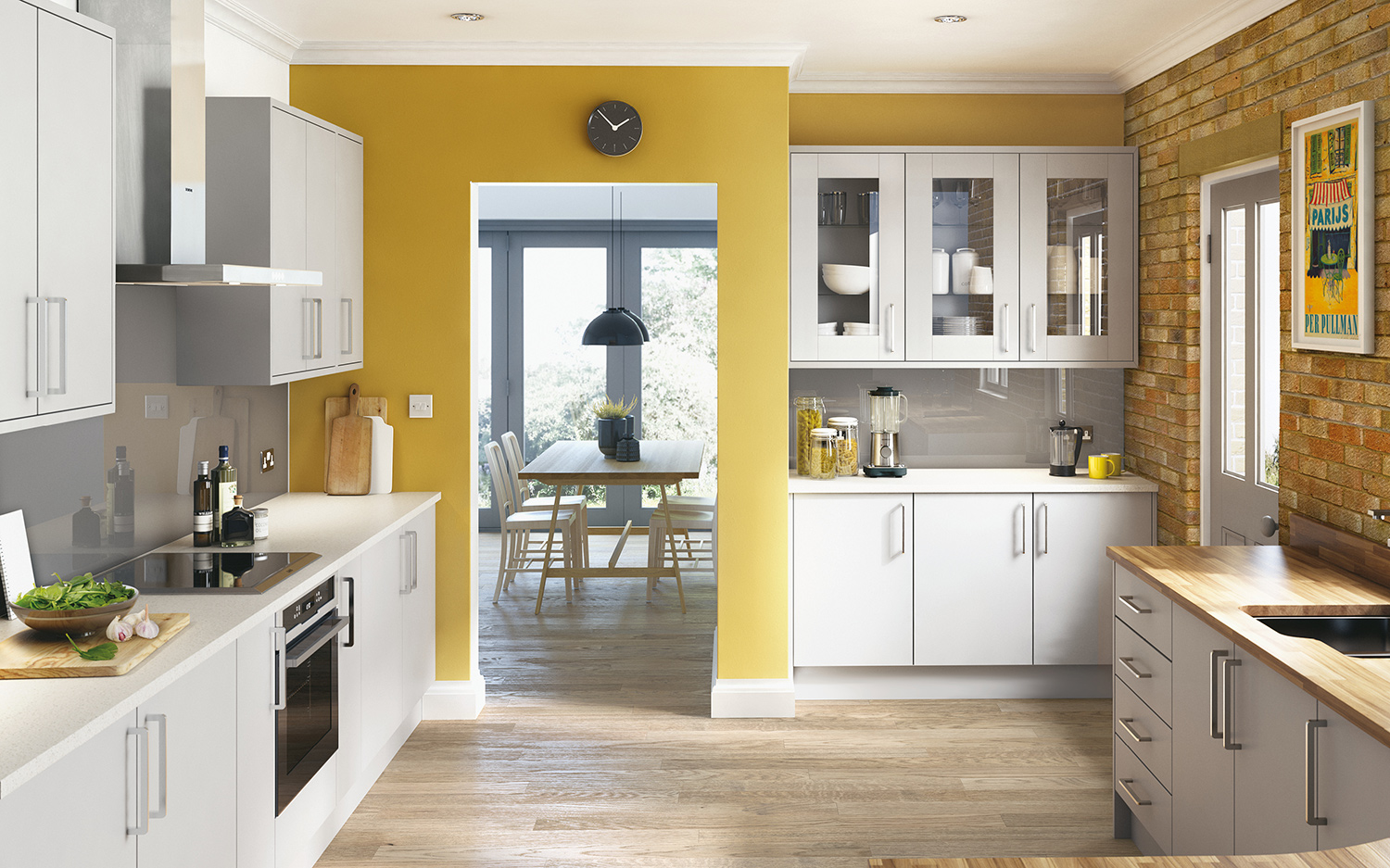 Considered Design
When you have limited space, it is important to consider the layout and design of your Kitchen. Think about what to do with the space to gain the most from it.
For any small space, getting organised is key. Think carefully about what you don't like or use in your existing kitchen, are there lots of unused appliances shoved in the back of a cupboard? Take this opportunity to have a clear out. Utilise even the hidden space inside your cupboards. There is a whole array of space saving organisers that you can find that are ideally suited to your needs.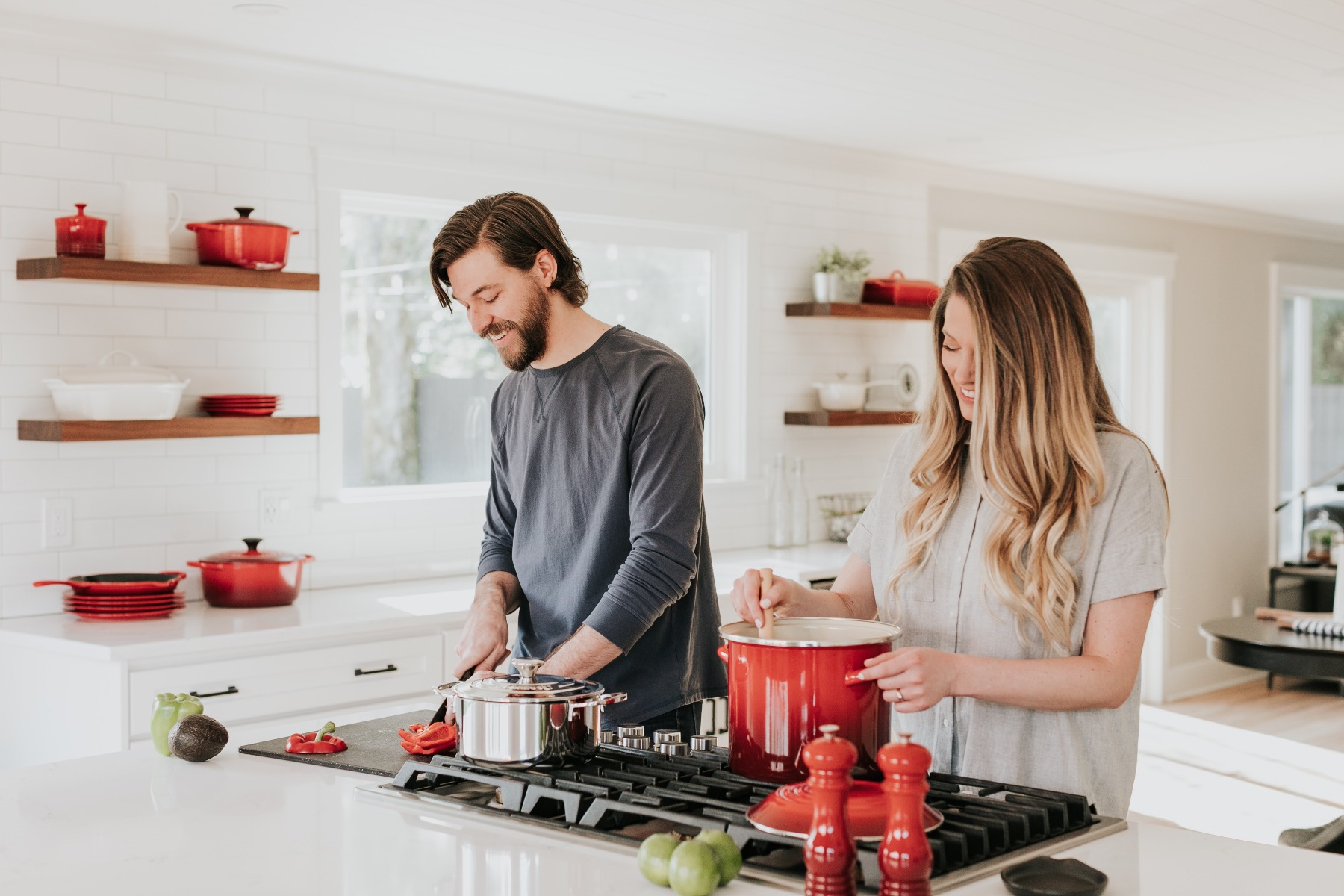 Use the vertical space! Wall cabinets are fantastic for adding extra space, but make sure to consider these carefully to ensure you keep your space as open as possible. You can still make effective use of your vertical space without complete wall cabinets. choosing to have some open shelves and selected items on display can be a much better use of space than filling the wall space with chunky cabinets that you may not require.
Finding accessories like pot racks, knife mounts and utensil rails can free up lots of space in drawers and cabinets and utilize the vertical space in your room more efficiently.
Always remember "the kitchen triangle" to make your kitchen as functional as possible for your needs. Interior designers have used this theory to design effective working spaces in kitchens since the early 20th century; the sink, refrigerator and the stove should all be in easy working distance of one another, easily accessible, and formed in a triangle.
Multi Use Bar
Not every kitchen will have space for an island, but there are a number of alternatives you can consider. Do you have space for a breakfast bar? They can add extra surface space and the storage space underneath can make great use of the footprint.
Boost storage with a mobile solution as a great alternative if you don't have space for a permanent fixture. A rolling island, trolley or butchers blocks on castors could be the solution you are looking for; it provides that extra surface space and be pushed out of the way when not required.
And with all the creative solutions available now you could even incorporate a pull-out surface that would push away after you are done.
Sink
In small kitchens it is essential to make use of every space wisely. Choosing your sink can seem like an afterthought or a headache. There are loads to choose from, underset sinks, inset sinks, single bowl, 1.5 bowl, circular, oval or square. You name it and it most likely exists. However, considering carefully how you use your sink, whether you are going to have a dishwasher and whether you have limited worktop space can help inform your decision.
Single bowl sinks free up must more space on the work surface for you to use for food prep. You can choose from a whole lot of features such as an extra deep bowl to hide those pots and pans before clean-up or covers so it can be used as surface space when not in use.
The ETAGON sink from Blanco offers unbelievable versatility and is designed with practicality in mind to offer you maximum flexibility.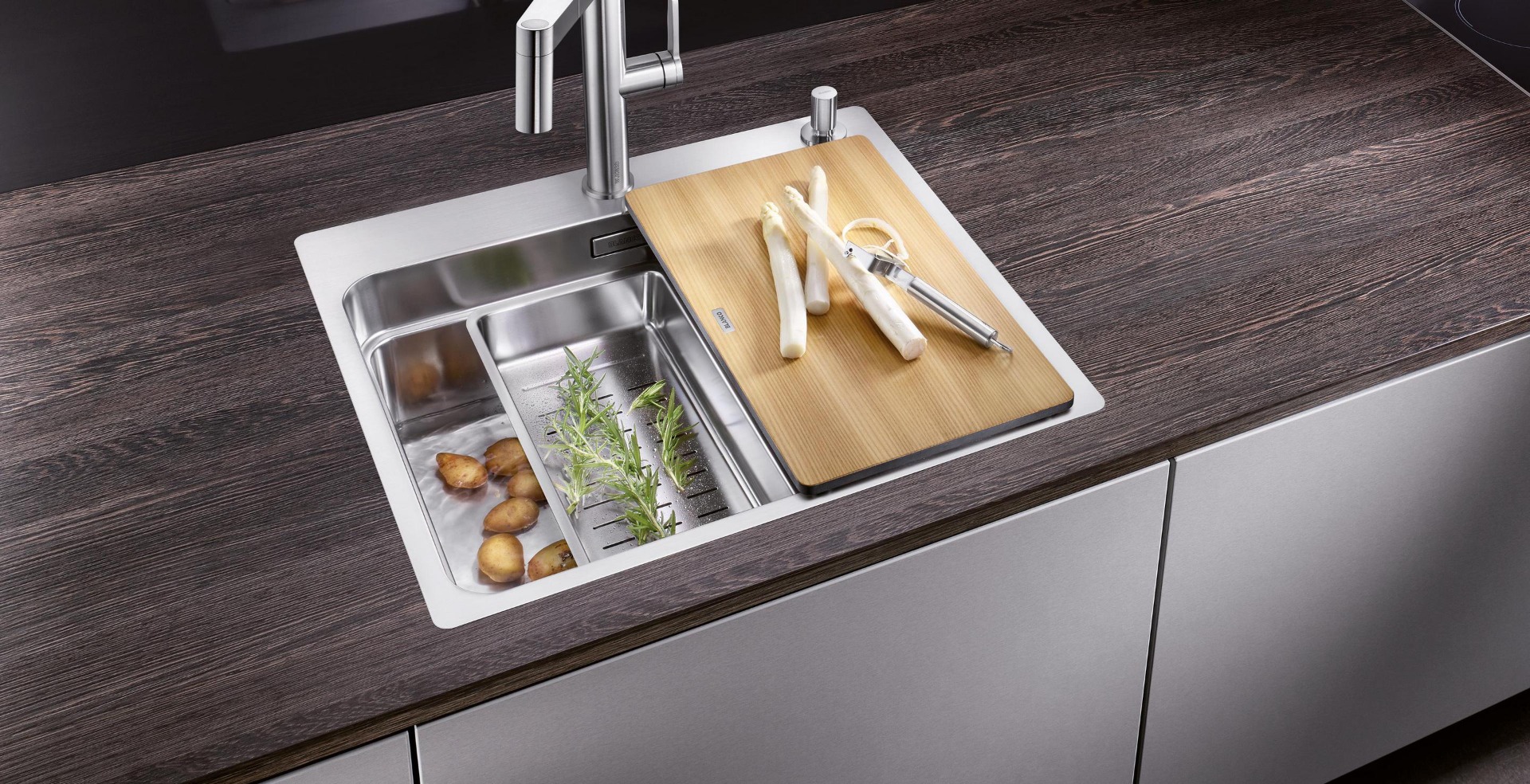 Lighting
There is nothing worse than trying to cook in a dimly lit kitchen. Flood your kitchen with light, both natural and artificial. Decorative lighting features can add character to a space and really reflect your personal style. Is anyone really going to notice the size of your kitchen if you have a statement piece brightening your kitchen?
Add LED strip lights underneath cabinets or shelves to brighten up your space further. Ensure you have good lighting, and plenty of it so you can stay safe whilst cooking in your kitchen.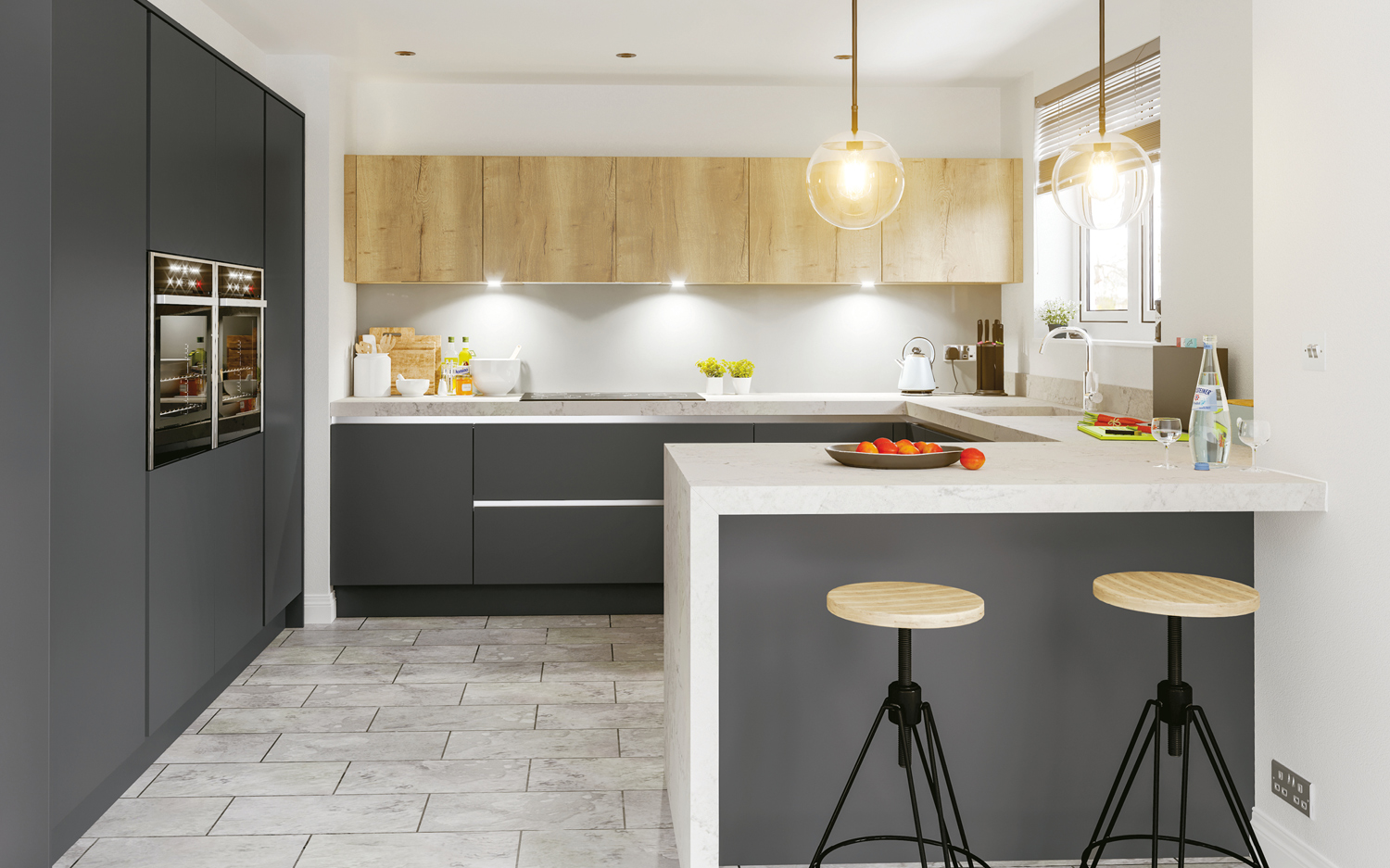 Get Rid of Clutter
Your surface space is precious. Make a point of getting rid of the extra crockery you don't need, plastic containers or old utensils you don't use anymore. Hide away appliances you don't use on a regular basis so they are not in your way the rest of the time and make use of clever wall storage to keep utensils and sundries at arm's reach without clogging up your drawers. Use storage bins or baskets for things you don't use often and slide them onto the top of cabinets to make use of space that you could not ordinarily use.
Add some Greenery
Adding greenery to any part of the home can freshen the space and breath in some life. The kitchen is the ideal place to introduce that. Create a windowsill herb garden or attach one to the fridge.
If you have a corner you want to soften, using a trailing plant from a top shelf liven up the space and do just the trick.
Using a hanging planter or a trailing plant is a great way to add some decoration to your kitchen without cluttering up your surface space.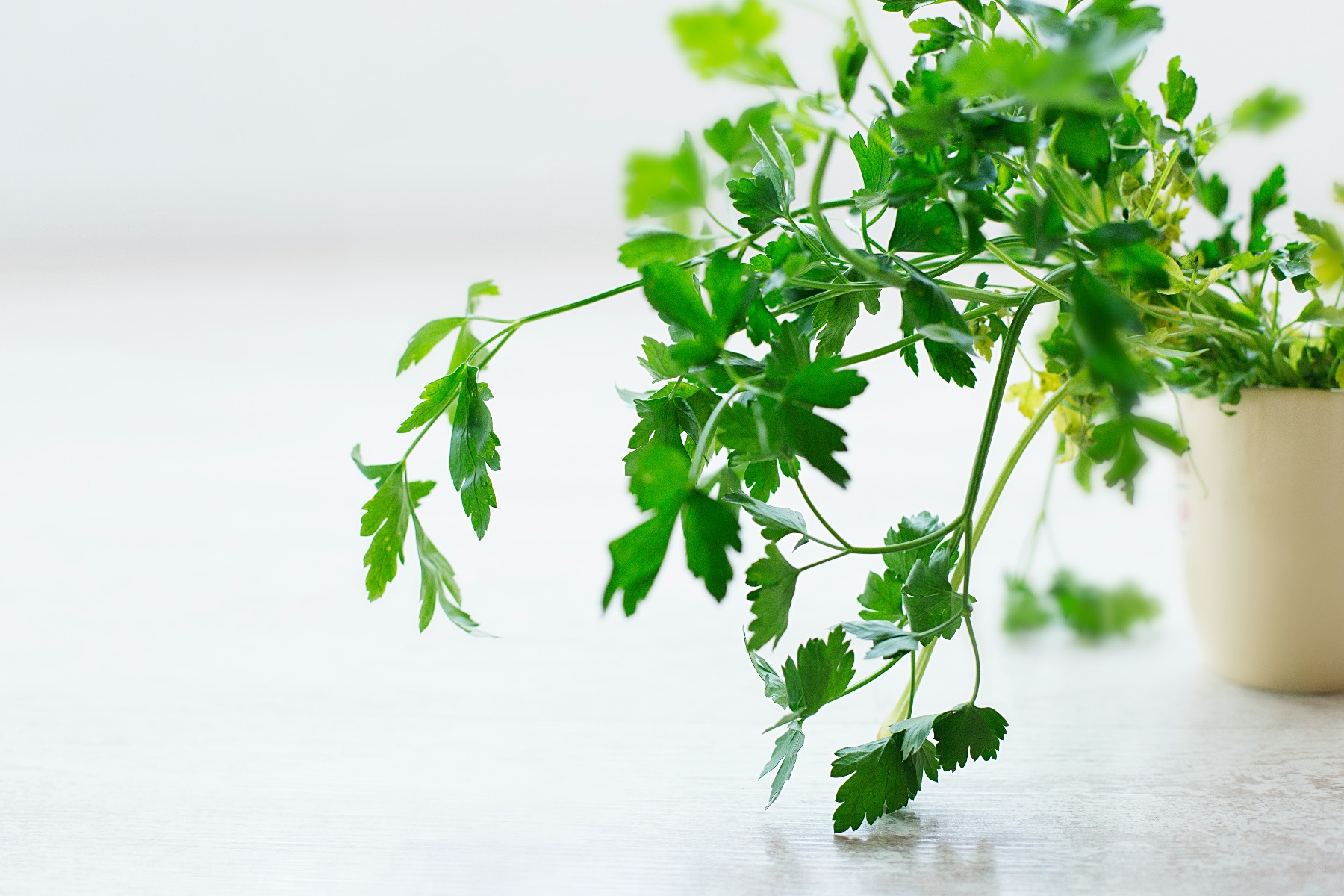 More than anything, get inspired, find pictures of things that you love, and spaces you aspire to have. We can help you find a way to incorporate those details into your kitchen plan.